The time has finally come! One of the most awaited features of Legends of Runeterra is now running for the first time: the Seasonal Tournaments.
The first Seasonal Tournament, Monuments of Power, began last December 6th. In case you don't know how it works, you can check all the details here, but still, here you got a summary:
At the end of each season (approx. every two months), the top 1024 players from each region will be able to compete with each other through Ranked games and Gauntlets. Once there, on the first day of the tournament, there are 5 Swiss Rounds of Bo3 series that will determine the top 32 players, who will advance to the second stage of the tournament (a week later) to compete in a single-elimination bracket.
The final winner is crowned Season Champion and wins the prize.
Ready yourself, recruits! Ranked season to qualify for Seasonal Tournaments in the Americas ends on December 4 at 12 AM PT. Make sure you are in the top 700 Masters to qualify. pic.twitter.com/LpG1lgN43B

— Legends of Runeterra (@PlayRuneterra) December 2, 2020
https://platform.twitter.com/widgets.js
As mentioned before, the first tournament began last weekend, and after 24 hours of competition, we already know which 32 competitors have secured a spot in each region, so it is time to settle for the Playoffs round, which will happen in the upcoming December 13th.
After the first stage was played, Riot Games released a list of the top 32 players of the different regions that still can aim for the prize:
Americas: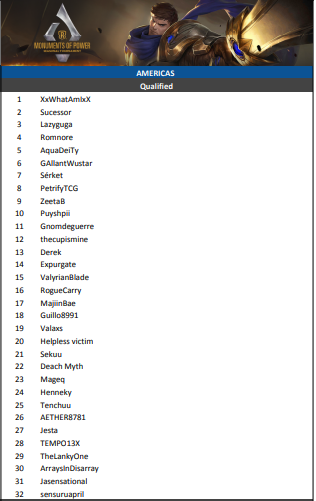 Asia: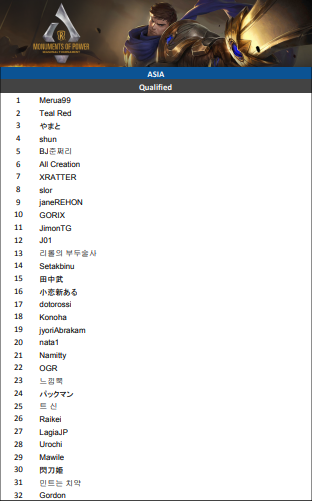 Europe: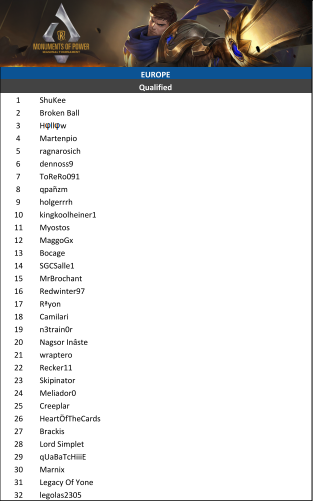 Southeast Asia: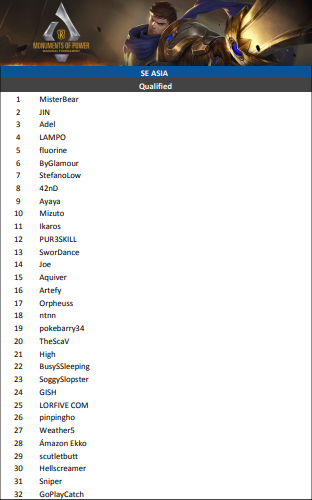 In case you are one of the fortunate who could participate in the tournament and your name does not appear on the lists above, check if your name is on the waiting lists!
For now, it is time to wait for next Sunday, December 13th, to see how the Monuments of Power tournament develops. On that day, we will have a first-round among 32 players each, followed by a round of 16, which will lead to the Quarter Finals, Semi-Finals, and the Big Finals.
You can check the schedules and links to watch all the games here!
Related article: