After two weeks of enjoying the new meta brought by Patch 1.6, together with the Spirit Blossom event, the details about the next version of Legends of Runeterra, Patch 1.7, have been revealed by Riot Games.
With the new version, the Spirit Blossom festival will continue with two new Epic quests and more event-themed items available in the store.
We will have a new Lab and new tri-region deckbuilding rules for Singleton Gauntlet as well, and all these new stuff will last longer than usual. That is what Riot Games announced before diving into the details of the Patch: the new version goes live today but will last an extra week, three weeks in total rather than the usual two.
The Spirit Blossom festival continues! 🌺

Patch 1.7 brings with it two new Epic quests and more event-themed items in store, as well as a brand new Lab and tri-region deckbuilding rules for Singleton Gauntlet.

Read the full patch notes 👇https://t.co/KIfAmCNx5Q pic.twitter.com/aJzlQVZgbU

— Legends of Runeterra (@PlayRuneterra) August 4, 2020
https://platform.twitter.com/widgets.js
New Lab: Quick Draw
This new Lab offers us new circumstances to contend with every round. Each of these rounds, players will draw five new Fleeting cards with "heavily discounted mana costs", but on the other hand, we will only have three mana to spend each round.
The funny (and maybe stressful) part of this new Lab is that all our cards will be Fleeting, so you better use them or you will lose them! Fortunately, there is a way to keep a card for next turn: to use the special Prolong card. This card will remove Fleeting from a single card in our hand so we can save it for a big play later on.
Singleton Gauntlet Update: Tri-Region
Riot Games have updated the Singleton Gauntlet to allow tri-region decks, in order to further differentiate Singleton from Standard.
Deckbuilder
From now we can filter our decks by deckbuilding rules and select specific unit art for our deck-box.
A new deck customization interface has been added to the deck-builder screen, as well as a new deck type filter.
Personalization
The Nightshade Shrine is the new Epic-tier board coming from the dark side of the world of Spirit Blossom. This board features tappable interactive elements and unique reactions to gameplay and is available in the store for 1290 Coins.
This beautiful Dragonling is the new Guardian, coming from the Ionian rivers with a calm personality.
Dragonling Bundle is now available for 975 Coins, and this bundle includes Dragonling and Nightshade Dragonling.
This Nightshade Dragonling has a Mysterious Personality and attracts Burning Passion.
These three new card backs are available for purchase in the store: Spirit of the Bloom, Spirit of Nature, and Crossed Spirits.
Also, this new emote is available as an Epic quest reward for the Spirit Blossom Festival.
Expedition Archetypes
Riot Games only bring minor adjustments this time, mostly to boost several underperforming Ionian archetypes:
Fishbones: after choosing Fishbones in pick 1, you'll now see both a Bilgewater option and a Piltover & Zaun option for pick 2 and will no longer be forced into a tri-region deck.
Disruption: Twin Disciplines has been added; Shadowshift has been removed.
Shadows and Dust: Navori Conspirator and Ren Shadowblade have been added; Shadow Fiend has been removed.
Spell Slingers: Retreat and Ye Been Warned have been removed.
Total Recall: Greenglade Duo and Yusari have been added; Plaza Guardian has been removed.
Bugfixes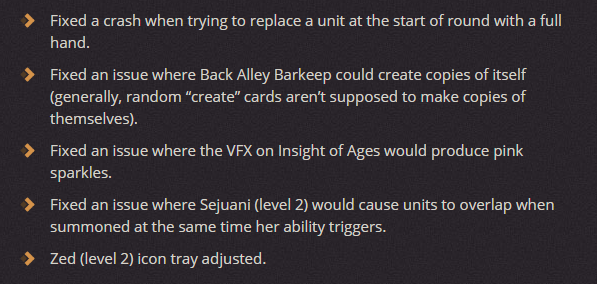 Related article: