(Photo: Heroic)
Benjamin "blameF" Bremer has been officially signed by Heroic the organization has revealed. The 21-year-old had been a member of Epsilon prior to this move. With blameF joining the lineup, a player must make room and it was revealed that this player would be Andreas "MODDII" Fridh.
A change was pursued by the team following a disappointing run at the European Minor which saw the squad fall to OpTic and ENCE, being eliminated from contention.
Coach of Heroic, Luis "Peacemaker" Tadeu shared his thoughts on the move and mentioned that the new player had been on the teams' radar for some time.
"We've been keeping an eye on Ben for quite some time now, and I know the rest of the world has too. A young player with great potential and a great understanding of the game. I look forward to having him in our roster and family."
What does blameF think about all this? The Danish player expressed his happiness for the opportunity and thanked Epsilon.
"I'm very happy and honored to join Heroic. Great opportunity I've been wanting to pursue for a long time, together with great players and organization. I can't wait to get going! I'd also like to thank team Epsilon for this time and wish them the best of luck in the future."
Want to catch the new lineup in action? You won't have to wait long as they will make their debut at the WePay! Lock and Load $50,000 tournament later this month.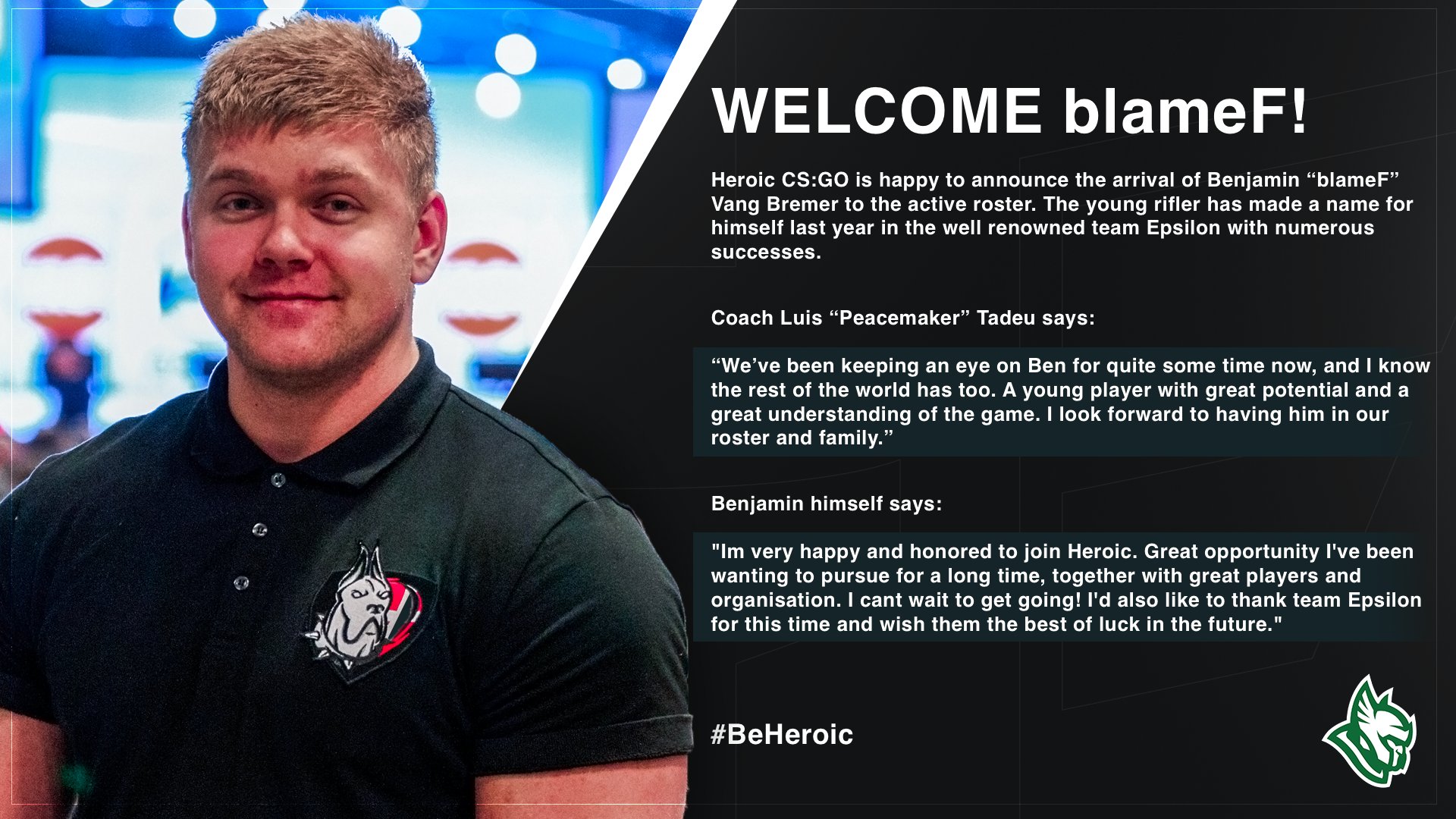 Heroic CS:GO roster:
 Adam "friberg" Friberg

 Asger "AcilioN" Larsen

 Patrick "es3tag" Hansen

 Daniel "mertz" Mertz

 Benjamin "blameF" Bremer
 Luis "peacemaker" Tadeu (coach)