The playoffs are set in Beijing with ENCE, ViCi, Evil Geniuses, and TYLOO making their exit. The remaining four teams will battle in the semifinals to see who will take the stage for the grand final.
The matchups are juicy as the powerhouse that is Astralis will be another big test for the FaZe Clan lineup that seemed to have found their form overnight heading into their BLAST Pro Series Copenhagen win. FaZe has moved into this event where they defeated Evil Geniuses twice and took a loss to Vitality. Astralis, on the other hand, came out of their group undefeated with wins over ViCi and 100 Thieves.
While FaZe has looked extremely strong with Nikola "NiKo" Kovač hitting near peak form and Marcelo "coldzera" David showing he was the right choice, Astralis will do what they always do and come in prepared.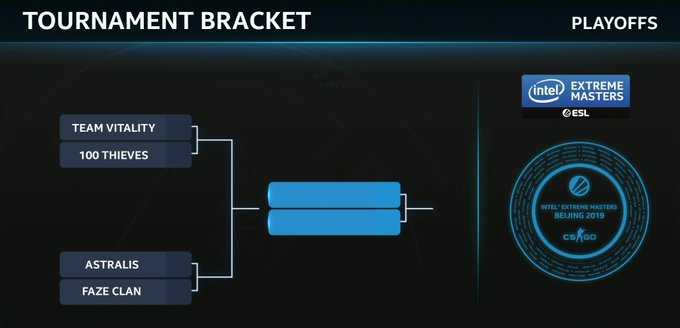 On the other side of the bracket, we have Vitality taking on 100 Thieves as both look to prove they're really top contenders. Vitality had looked to struggle after a streak of top finishes but seem to be firing on all cylinders in Beijing. 100 Thieves were on an upswing coming into the event and while they suffered a loss to Astralis, they also managed to defeat ENCE 4-0 in maps with the Finnish side only managing double digits in one.
This matchup should be one worth watching to see just how 100 Thieves plans to try and reduce the impact of Vitality's star Mathieu "ZywOo" Herbaut. On the flip side, Vitality has done a good job so far this event at spreading out the kill feed even if it was slightly skewed due to a dominant 2-0 against TYLOO.
Related article: