After seven and a half years, Patrik "f0rest" Lindberg has parted ways with Ninjas in Pyjamas. The Counter-Strike veteran is one of the most storied players in the games lengthy history.
f0rest will be replaced by Tim "nawwk" Jonasson who was revealed to have left GamerLegion just earlier today. nawwk will be taking over the AWPer role for Ninjas in Pyjamas as they move forward to this new age.
Having been the last remaining member of the NiP roster that crashed into CS:GO with a 87-0 record offline record, f0rest's departure marks a full move from the NiP of old.
During his time under the NiP banner, f0rest hoisted the trophy at 24 events to include the ESL One Cologne 2014 Major. His individual performance earned him eight MVP awards over the years.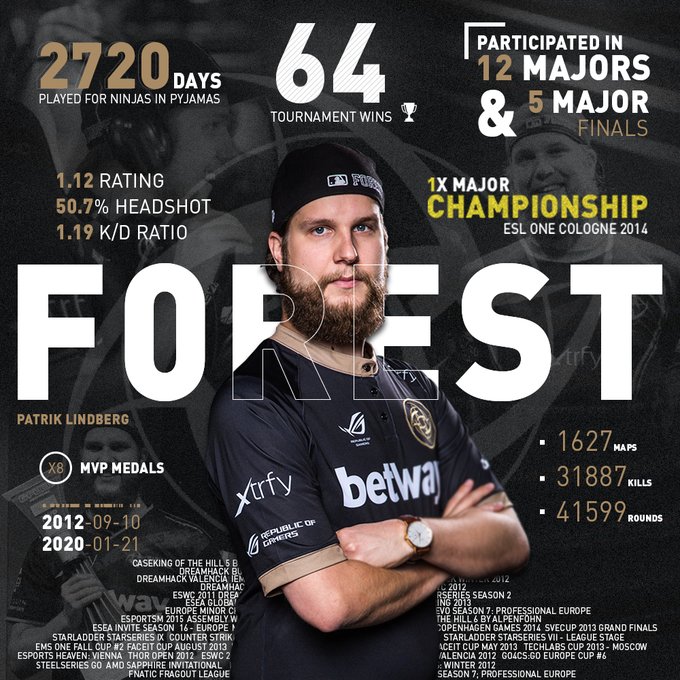 "Patrik is a true icon of the game with a long list of accolades and has been instrumental in the legacy and brand of NiP for many years," NiP's Chief Operating Officer Jonas Gundersen said as part of the official announcement. "That is something that we respect immensely and will never forget. After having been with the same team for so long and achieved so much, it's a natural thing to want a change of scenery. We have of course chosen to honor that request and wish him the very best of luck on his next adventure."
f0rest has been linked to a move Dignitas where it's rumored he'll be reuniting with three of the players he achieved that 87-0 record with. Adam "friberg" Friberg left, with Richard "Xizt" Landström and Christopher "GeT_RiGhT" Alesund are all expected to be members of the new Dignitas lineup alongside Håkon "hallzerk" Fjærli.
Ninjas in Pyjamas CS:GO division:
Fredrik "REZ" Sterner
Jonas "Lekr0" Olofsson
Simon "twist" Eliasson
Nicolas "Plopski" Gonzalez Zamora
Tim "nawwk" Jonasson
Björn "THREAT" Pers (coach)
Related article: